Tired of your big street bike fearing? Annoyed with your stock headlight look and performance? No need to worry. We have you covered. Here's our list of the top 5 best streetfighter headlights.
5. Dual Stacked Motorcycle LED Headlight | Multiple Fork Size | Street Fighter | Bike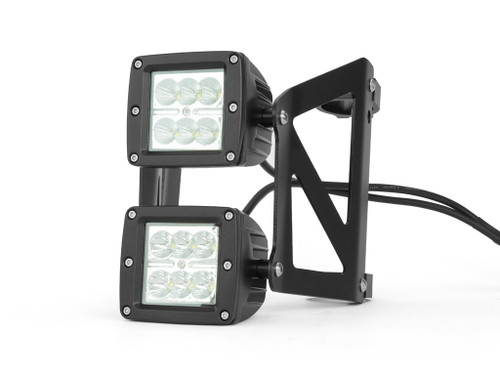 Coming in at number five is a classic style light, Dual stacked LEDS, rugged square box design. Very small yet rigid and strong. A sleek design overall. This great looking headlight can be easily mounted to just about any motorcycle. The lights consist of 2 x 20 watt LED cube lights - the top being the low beam and the bottom light is the high beam.
4. 7 inch Motorcycle Headlight LED | Dark Delta | Aluminum Housing | Side Mount | Headlight Cover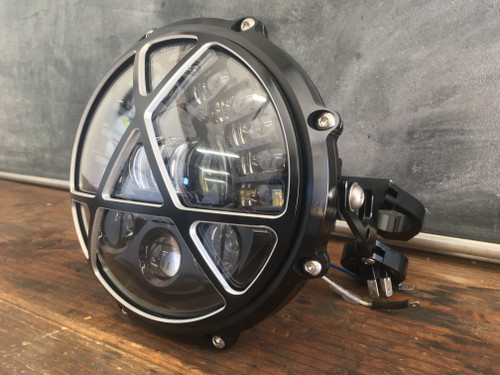 Number four on our list is a light new to us. A all aluminum CNC design. This light allows you to interchange the rock guard with any of our seven inch guards. A very bright like that is great to use if you want to delete your front turn signals as this light has integrated turn signals. Truly an all in one headlight kit!
3. Motorcycle Dual Stacked Projector Headlight | E Marked | DOT Approved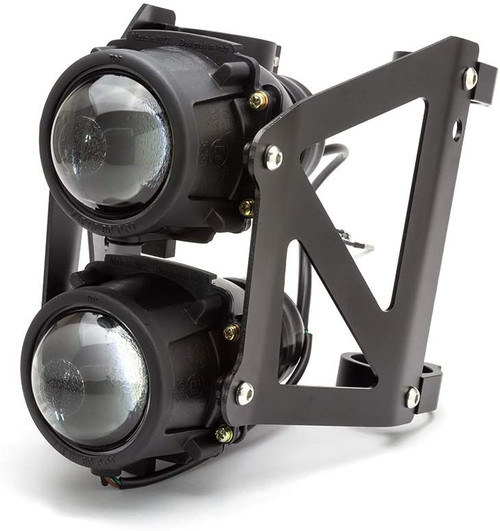 As we get into the top three of our list we come across a streetfighter staple. The classic dual stacked pod style headlight. The low beam is the top light and high beam/ parking light is the bottom. Powered by two 55w bulbs. A very simple easy to work on headlight kit. A great fit for your bike.
2. 7 inch headlight Wire Mesh Motorcycle | 7 inch Lens 7.75 inch overall LED Projector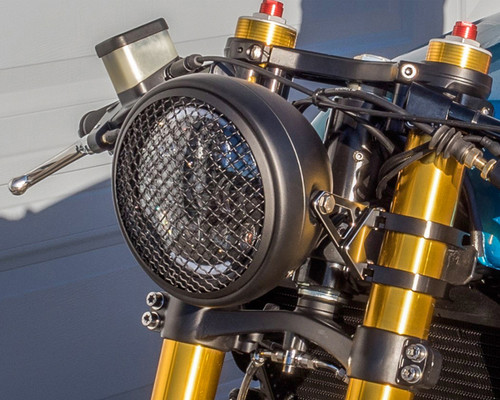 The runner up on this list is personally one of my favorites. If you aren't a fan of the aftermarket style of some of these other lights, but are looking for an upgrade. This is the light for you. Multiple rows of LED for a super bright LOW and HIGH beam. High quality and super bright classic style side mount headlight with mesh grill stone guard featuring a multi-projector LED insert and a full metal housing.
1. Motorcycle LED Headlight w/Brackets | DayMaker Dual Light Bar |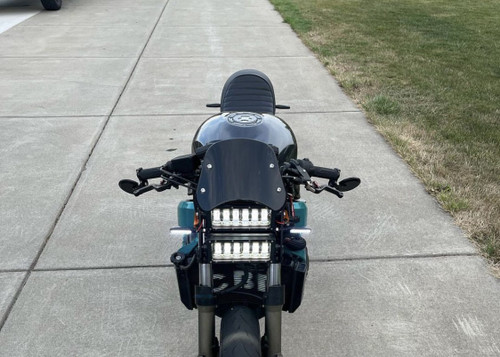 The DayMaker is by far our most popular headlight kit. From Streetfighters to Cafe Racers this light can do it all. This is one of the brightest headlights that we have to offer. Featuring a high quality, and unique custom dual stacked headlight design lets you see the road, and people see you! This kit comes with a super bright light bar that emits 30 watts of light.
All of our headlights available here. With brackets ranging from 32mm to 59mm.
Recent Posts
Looking do ditch your old crusty carbs? Tired of the lackluster performance of your OE carbs. Look n …

We offer plenty a range of speedometers and tachometers. Ranging from simple OE …

First we have the Omega headlight- https://speedmotoco.com/omega-dual-led-projector-m...Second …