Looking to replace your old rusty beat up stock tank? Look no further! At speedmotoco.com we have all the parts you need to get your bike back on the road again.
So you have spark, a new set of carbs, now all you need is fuel! Oh no!! Your tank is damaged or missing. No need to worry. With a couple simple measurements you can find the perfect replacement tank at a fraction of the cost in comparison to a OEM replacement.
There are a couple key measurements we need to know in order to select the best fit. First thing we need to look at is the overall length of your current tank or space allowed on bike. All of our tanks have dimensions included in the ad.
To measure your old tank overall length please measure from the top of the neck of tank to the rear most mounting point. It is line A in this photo. To measure without tank please take measurement from the upmost point of headtube to rear most mounting point for back of tank. Then subtract half an inch to compensate for clearance issues.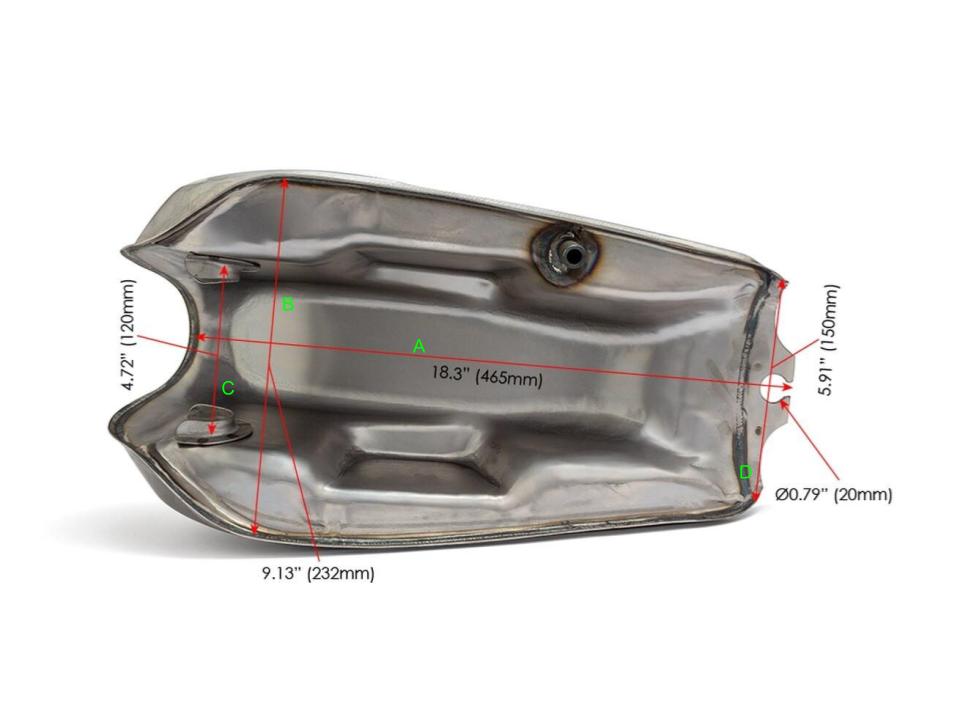 The next measurement we need to take is the width of the inside neck of front of tank. It is line C in the photo. If you have your old tank. Take a measurement from side to side of the inside of mounting points which slide onto rubber tank mounts on frame. This measurement is vital. If tank is not on hand measure the width of frame tabs that the rubber grommets slide onto. These tabs can be shortened very easily if too wide for aftermarket tank.
This width measurement can also be used to determined if the tank will clear the main upper frame rail on the bike. Typically a quick measurement of the front tabs and widest rear most width of upper frame rail can determine fitment.
As for our second to last measurement this one ties into the previous paragraph. Typically the mounting point for the rear part of tank will be at the beginning of the Y from front upper frame rail to the two rear upper frame rails.
Once you know your overall length of tank, go to the rearmost point of that measurement and determine the width from side to side of frame. This will determine if your new tank will sit flush and clear the rear upper frame rails.
The last measurement to take into account is the overall width of tank. This is important to know in regards to where your bars will land at full lock. If you do not have old tank you can turn bars full lock and measure from the perceived front most part of tank location, to the corresponding horizontal location of bars. If it is deemed your after market tank will be too wide, you can install steering stops on forks to limit steering lock angle and save your tank from dents.
Overall it is a very easy and straight forward process to measure your frame or old tank and determine which universal tank will best replace your OEM tank. Linked below is all of our universal tanks we offer. If you have any further questions please call at (541)-687-6400 or email at shop@speedmotoco.com.
Recent Posts
Looking do ditch your old crusty carbs? Tired of the lackluster performance of your OE carbs. Look n …

We offer plenty a range of speedometers and tachometers. Ranging from simple OE …

First we have the Omega headlight- https://speedmotoco.com/omega-dual-led-projector-m...Second …